Lockdown 2020–2021 in France: A whole country literally shuts down. Gyms and sports clubs are closed; very few people are able to exercise. Kids sit at home. As dreary as the scenario might sound, it is also the birth of the École de Mouvement (The School of Movement) in Hagondange, 60 kilometers from the French-German border.
The idea of a School of Movement goes back to the former Belgian professional volleyball player Émile Rousseaux, now coach of the French national volleyball team. As early as the 1980's, physiologists discovered that many 12-year-olds lacked motor skills and did not enjoy moving. Rousseaux hoped his School of Movement would act as a corrective here. Nicolas Keller, himself a volleyball coach and founder of the School of Movement in Hagondange, noticed that many 15-year-old girls are unable to jump rope: specifically, they had difficulties coordinating their arms and legs. Now he intends to counteract this tendency with his École de Mouvement, starting at a very early age.
All children from 18 months to 8 years are welcome at the school, not only to do sports with their parents, but also to discover the joy of exercise. Up until now, France has offered very little in the way of sporting activities for young children and toddlers. It also makes a difference that not all parents live in areas adjacent a garden where their child can play.
The first École de Mouvement lessons were silent: no one talked in the gymnasium, parents and their children listened and repeated what the course leaders showed them. And now? Today things are considerably louder. Kids shout at the top of their voices and play together, demonstrating the self-confidence they have already gained. In the beginning there were 40 individual children, but now the 40 kids have melded into a group. As far as Nicolas is concerned, this is a sign of progress. And he's even happy about the noise level.
But how has he managed to evoke this much joy in the children? He insists it's the course that brings joy, by providing them an opportunity offering to move. It is not about learning a particular sport, but rather about discovering exercise in all its facets: jumping, climbing, running, throwing. In this safe environment, the kids can let go and follow their fancy. The coaches are there to assist and support the children rather than correct them.
This is the same approach Nicolas takes as a volleyball coach. In his sport, there are many predefined techniques: which foot to put in front of the other, what to do next and so on. But if a player gets the same result in a different way, for him that's okay too. Nicolas only teaches the technique, then he lets his players decide how to apply it. Same thing for the little children: They are shown one way a movement or sport can be done, then work on it on their own with the help of their parents. This also strengthens the parent-child bond.
Parents were skeptical at first when the École de Mouvement opened. Some were worried about their kids getting hurt. Others mistook the courses for high-level gymnastics training. But in the end, everyone who has participated is on board with the concept and tends to recommend the school to friends and acquaintances. The School of Movement is very popular, even though it does little advertising of its own. The best thing is that the parents – who were very reluctant at first, sitting on the sidelines and taking pictures of their kids – are now moving too. Because when we move, we also move our environment. We infect them with our joy of movement. This example demonstrates that very clearly.
The children get a lot out of the Sunday morning classes at the École de Mouvement. Little Léo, for example, who was born during the lockdown, was rather shy and reserved, unlike his athletic brother. He was afraid to leave his parents at the playground. After a few weeks at the École de Mouvement, his father went up to the coaches and thanked them. A few days before Léo had asked his father to go to the playground and do some balance exercises on an elevated log. That's real progress, thought the father. Another girl who suffers from autism has relaxed considerably through the exercises and has since found new hobbies.
We asked Nicolas whether he wants his children to become volleyball players later. "No, no," he smiles, "I just want them to enjoy exercise." When they are a bit older, they can always choose a sport. "That's why there's a bit of everything in our exercises: a bit of football, a bit of volleyball, a bit of handball." New sports like basketball or judo are being added all the time. Every now and then, a guest trainer from another area visits to show the children something new.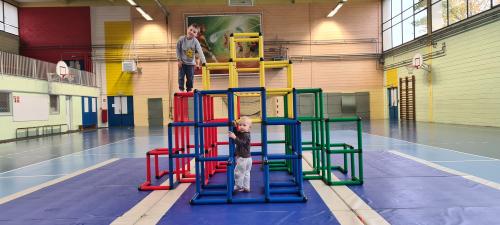 The courses at the École de Mouvement are also a substitute for jumping around on the sofa at home – which as we all know kids are only too happy to do. "Here they can jump around on something similar to a sofa," Nicolas laughs. They try out different things. "And make all kinds of mistakes – but that's part of it," he adds. The little ones test things out and get better and better at what they do. Along the way, they develop hip, leg, and arm mobility. Or proprioception, the awareness of limbs, torso and head in space and in relation to each other. Not to forget coordination and a host of other skills. "The body first has to get used to its tasks first so that it can react better to external influences," Nicolas says. "That doesn't happen when you sit in front of a computer for hours. Despite all civilization, we are mammals. And we have to learn to walk, jump, run and climb." Here he offers to help – in case something doesn't go as planned. Otherwise, he just lets the children do what they want.
He is convinced that kids develop not only physically but also mentally through exercise, and believes in the maxim "a healthy mind in a healthy body". But playing also means taking the time to play. Or even to feel boredom. After all, boredom is necessary for creativity, says Nicolas. The École de Mouvement also promotes creativity, especially since the Ultra Climbing Pyramid Extreme from QUADRO has been installed in the gym. After the school won us over with its excellent concept, we donated the Climbing Pyramid to them free of charge.
It was a big surprise for the tots. At first, they were a bit nervous around the oversized structure and had to get used to it by degrees. But right away they loved the bright colors. And they were also very curious. Now that they've gotten used to it, they want to climb to the top if possible and hang onto the tubes like monkeys.
Today QUADRO is simply part of the École de Mouvement. The pyramid is a great addition to the many mats, bars, benches and balls in the gym, because the little athletes can learn to climb on it. But that's not all: Nicolas has big plans to rebuild the jungle gym soon. Here, the children can get really creative and build things on their own. When they put the tubes together and turn the wrenches, it also trains their motor skills. And because we believe the concept is so great, we decided to donate the QUADRO DRIVE, which can also be used to build steerable soapboxes, to the École de Mouvement free of charge.
Nicolas is thrilled that the École de Mouvement has such great equipment already – after all, it only opened its doors in September 2021. This way, all children in the area truly have a chance to be active. After all, sporting activities are quite expensive in France. He is excited to teach many more children the joy of movement and encouraging them to grow into healthy and alert individuals.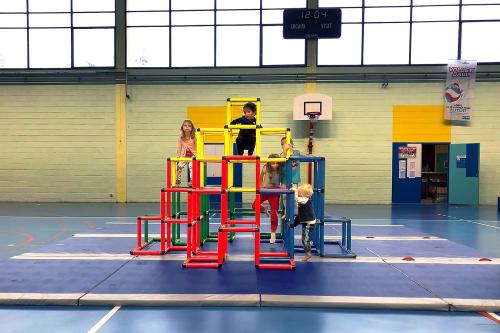 Did you enjoy this article? Discover a completely different way to help children move in the article Rotate! Making Swimming Safer for Small Children.